GO MASSIF
Go Massif are the leading provider of airport transfers for the ski resorts of Flaine, Les Carroz, Samoens and Morillon that make up the Grand Massif region of the alps. We have been in operation for 16 years, are fully licensed and insured and pride ourselves on providing a reliable and efficient service.
During the winter season, we provide a frequent shared shuttle service to and from Geneva airport. We also provide a private service for groups and individuals between Geneva airport and the Grand Massif.
Vehicles and Drivers
Go Massif have a fleet of 20 8-seater minibuses during the winter season, based in Samoens, Les Carroz and Flaine. All vehicles are equipped with snow tyres, snow chains and everything required to operate on snowy roads. Every vehicle has room for ski bags and the amount of luggage required for a ski holiday.
Our team of professional and experienced drivers are based in-resort, allowing them to have an unrivalled knowledge of the area and back up in case of delays.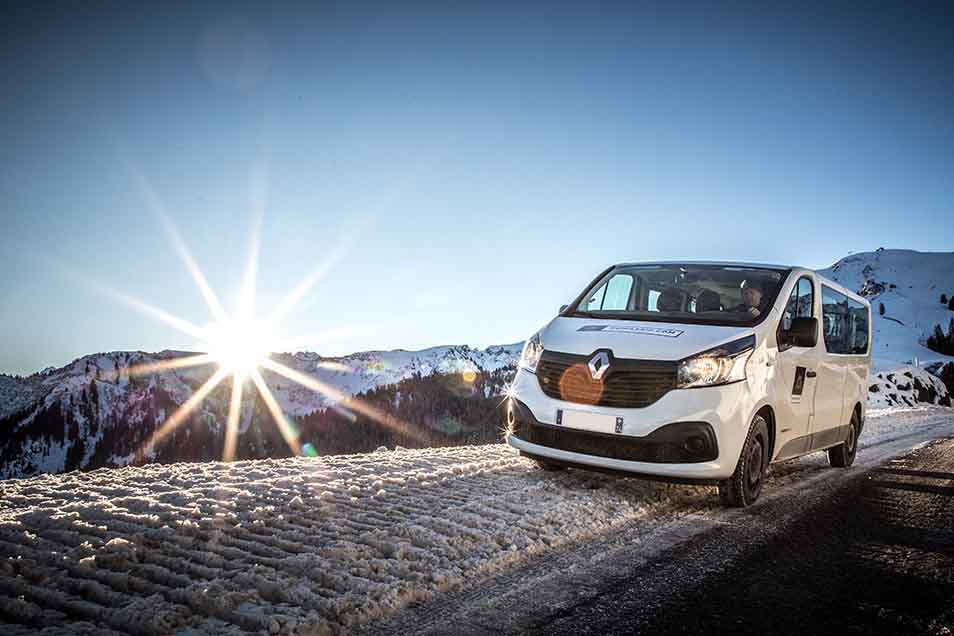 transfer types
Go Massif offer two types of transfer, to suit the budgets and requirements of any group size.
Shared transfers
A shared mini bus transfer service is available throughout the ski season between Geneva airport and the ski resorts of Flaine, Les Carroz, Samoens, Morillon and Sixt Fer a Cheval. Unlike the public bus, the Go Massif shared transfer service runs regularly throught the week. Our vehicle will also drop you off and pick you up at the door of your accommodation.
Airport-to-resort shared transfers
Go Massif have vehicles departing Geneva airport frequently for the Grand Massif ski resorts. Shared passengers are grouped with other passengers scheduled to arrive within 90 minutes of each other. Waiting times are generally much less, as popular flights tend to land at similar times. Our objective is to get you out of the airport to resort as soon as possible!
Resort-to-airport shared transfers
For your flight departure, you will be grouped with other passengers leaving on flights no more than 2 hours apart. We aim to get all passengers to Geneva airport at least 2 hours 15 minutes before their flight. Passengers receive a text message and email the day before their flight departure, confirming the exact time the driver will pick them up from the door of their accommodation.
Private transfers
As the title implies, private transfers are not shared with any other passengers. The same 8-seater vehicles are used for private transfers, giving plenty of room for luggage. When arriving at Geneva airport, the vehicle is ready to depart for resort as soon as you are.
For flight departures, you will be picked up at a time that gets you safely to the airport at least 2 hours 15 mins before your flight.
COVID - 19
For the forthcoming 21/22 winter season, Go Massif are pleased to announce the reintroduction of the Shared service, to complement the Private service currently on offer.
It is now possible to make an advanced booking for these services on the Go Massif website.
Currently, payment will not be required to confirm a booking until 14 days before the initial journey. You will receive an email when payment becomes due. Any unpaid bookings will be cancelled.
Hygiene procedures
Vehicles will be fully disinfected before each transfer
All passengers must wear masks for the duration of the journey
Hand sanitiser will be provided for passengers at the start of each journey
Eating in the vehicle is prohibited.
Passengers must load and unload own baggage from the vehicle
Cancellation procedure
Go Massif will continue to operate its standard cancellation procedure. As such, it is advised that reservations are not made until it is certain that all passengers are able to travel.
It is strongly advised that all customers take out comprehensive travel insurance to cover any last-minute cancellations due to Covid restrictions or other unforseen events.
New operating procedures - winter '21/22
Starting from December 2021, Go Massif will only be operating in Switzerland for 90 days a year.
Recently, Swiss authorities have begun imposing a regulation that limits the number of days companies based in Europe can operate in Switzerland to 90.
This affects all taxis, private hire vehicle operators and transporters operating vehicles with fewer than 9 seats, such as Go Massif.
Go Massif will continue to provide shared and private services on the days it operates. Availability of private services will be very limited on Saturdays.
During the winter season 21/22 Go Massif will not be operating on the following days:
Sat, 25 December 21
Tue, 11 January 22
Wed, 12 January 22
Tue, 18 January 22
Wed, 19 January 22
Tue, 01 February 22
Wed, 02 February 22
Tue, 08 February 22
Wed, 09 February 22
Tue, 15 February 22
Wed, 16 February 22
Tue, 22 February 22
Wed, 23 February 22
Wed, 02 March 22
Wed, 09 March 22
Wed, 16 March 22
Wed, 23 March 22
Wed, 30 March 22
Tue, 05 April 22
Wed, 06 April 22
Thu, 07 April 22
Tue, 12 April 22
Wed, 13 April 22
Thu, 14 April 22
From 18 April 2022, Go Massif will cease providing transfers to and from Geneva airport until winter '22.