GO MASSIF
Go Massif are the leading provider of airport transfers for the ski resorts of Flaine, Les Carroz, Samoens and Morillon that make up the Grand Massif region of the alps. We have been in operation for more than 12 years, are fully licensed and insured and pride ourselves on providing a reliable and efficient service.
During the winter season, we provide a frequent shared shuttle service to and from Geneva airport. We also provide a private service for groups and individuals between Geneva and the Grand Massif.
Vehicles and Drivers
Go Massif have a fleet of 40 8-seater minibuses during the winter season, based in Samoens, Les Carroz and Flaine. All vehicles are equipped with snow tyres, snow chains and everything required to operate on snowy roads. Every vehicle has room for ski bags and the amount of luggage required for a ski holiday.
Our team of professional and experienced drivers are based in-resort, allowing them to have an unrivalled knowledge of the area and back up in case of delays.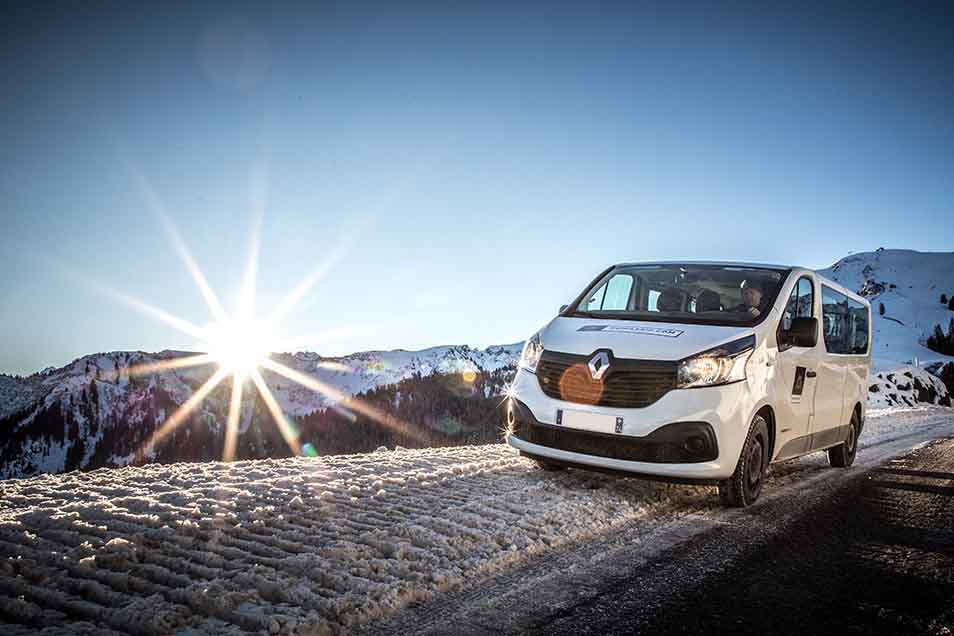 transfer types
Go Massif offer three types of transfer, to suit the budgets and requirements of any group size.
Shared transfers
A shared mini bus transfer service is available throughout the ski season between Geneva airport and the ski resorts of Flaine, Les Carroz, Samoens, Morillon and Sixt Fer a Cheval. Unlike the public bus, the Go Massif shared transfer service runs regularly, 7 days a week. Our vehicle will also drop you off and pick you up at the door of your accommodation.
Airport-to-resort shared transfers
Go Massif have vehicles departing Geneva airport frequently for the Grand Massif ski resorts, 7 days a week. Shared passengers are grouped with other passengers scheduled to arrive within 60 minutes of each other on Saturdays, and 90 minutes on other days of the week. Waiting times are generally much less, as popular flights tend to land at similar times. Our objective is to get you out of the airport to resort as soon as possible!
Resort-to-airport shared transfers
For your flight departure, you will be grouped with other passengers leaving on flights no more than 2 hours apart. We aim to get all passengers to Geneva airport at least 2 hours 15 minutes before their flight. Passengers receive a text message and email the day before their flight departure, confirming the exact time the driver will pick them up from the door of their accommodation.
Shared Plus transfers
Shared Plus transfers are like shared transfers, but without the waiting at the airport or departing resort early. While other passengers may be on the same vehicle, arriving Shared Plus customers will be grouped with flights landing no more than 15 mins after their own flight. For departures to the airport, the vehicle will pick Shared Plus customers up at a time that will get them to the airport about 2 hours 15 minutes before their departing flight
Private transfers
As the title implies, private transfers are not shared with any other passengers. The same 8-seater vehicles are used for private transfers, giving plenty of room for luggage. When arriving at Geneva airport, the vehicle is ready to depart for resort as soon as you are.
For flight departures, you will be picked up at a time that gets you safely to the airport at least 2 hours 15 mins before your flight. A private transfer can also pick passengers up at hotels, train stations and any other address in Geneva.
COVID - 19
The ongoing COVID-19 sanitary crisis is having a large impact on the ski industry in France. Due to a massive decrease in demand, and also to meet sanitary requirements, Go Massif are currently only offering private transfers.
Hygiene procedures
Vehicles will be fully disinfected before each transfer
All passengers must wear masks for the duration of the journey
Maximum group size per vehicle is 7
Hand sanitiser will be provided for passengers at the start of each journey
Eating in the vehicle is prohibited.
Passengers must load and unload own baggage from the vehicle
Cancellation procedure
Go Massif will continue to operate its standard cancellation procedure. As such, it is advised that reservations are not made until one or two days before travel, to ensure all passengers are able to travel and also that Go Massif are able to provide the required service.
Situations may arise where Go Massif are not able to fulfil reservations because drivers have been quarantined. Customers will be notified as soon as possible and a full refund will be issued.
As the situation develops..
Shared services will only become available when the situation evolves and sufficient demand returns for shared services.
If you have any further questions, please do not hesitate to contact Go Massif customer services.